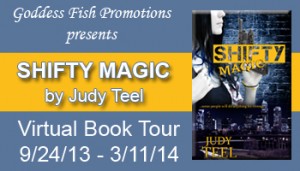 This post is part of a virtual book tour organized by
Goddess Fish Promotions
. Judy will be awarding a $25 Amazon GC to one randomly drawn commenter. Click on the tour banner to see the other stops on the tour.
Kick Writer's Block to the Curb!
I recently read a blog by one of my favorite bloggers, in which he stated that the biggest cause of writer's block is the fear that our work will be judged. I have to agree with that.
In other words—writer's block is the fear of being wrong.
Why we get writer's block—
We writers are interesting people. We vacillate between two camps:
Massive Egos  Astronomical Insecurities
If we didn't have the egos, we'd never put a single word to paper. The belief that we can create something wonderful drives us forward.
And the insecurities? Well, that's where the fear of being wrong comes in. But insecurities also keep the ego in check and are an intrinsic part of having an artistic nature. I've never known an artist, musician, actor or writer that didn't have them.
The roller coaster of writing—
Like it or not, these two traits are part of you. And they're in a constant state of war with each other. Ego says, "You're great! The world will love your novel! Readers will adore your protagonist! They'll laugh. They'll cry. You have to write it now!"
And the creative juices flow.
Then Insecurity screams, "What the hell are you thinking? You suck! There was a mistake on page two for crying out loud. Only a moron would make a simple mistake like that. And you call yourself a novelist. You couldn't write yourself out of a paper bag!"
Ouch.
Stopping writer's block—
For me, overcoming writer's block means giving the insecurities nothing to worry about and the ego something to do. I approach this in a very simple way.
Have a clear idea of your characters—
Create a simple character sheet for each of your main characters. In addition to the usual information of name, age, gender, and description, your cheat sheet should include:
• dominant personal philosophy
• education and career
• three to four personality traits (and no more)
• goals in the story
• motivation for those goals
• internal conflicts
• external conflicts
Have a solidly constructed plot—
You wouldn't take a trip without knowing where you're going, would you? Write your novel using a similar philosophy. Know where you're going and then work backwards to find out how you got there.
It's a wild way to look at writing, but it works. As I outline in "Streamline Your Writing: Know What Happens Next", the most efficient way to create a novel is to plot backwards.
Start with the big problem your characters have to solve. From there, fill in the main plot points. They're listed below in reverse order:
• The event that solves the big problem
• The moment when all seems lost
• The event that changes everything
• The event that launches the protagonist irreversibly into the problem
• The event that starts the problem (and the story) off with a bang
With a well laid plan, both the ego and the insecurities will be satisfied. The ego sees that it really does have a kick ass story to sink its teeth into, and the insecurities can relax, knowing that everything is under control.
Goodbye writer's block!
How do you stay in the grove when you're writing?
About the Author: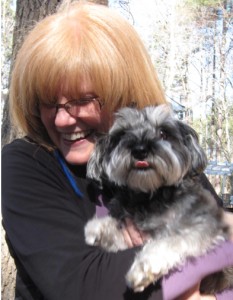 I live in North Carolina with my boisterous family–husband, three kids, a dog and a geriatric bunny–and yup, I'm Southern so occasionally I let a "y'all" slip out. Maybe more than occasionally.
I love my job and dedicate as much of my time to writing as I can. When I'm not doing the weaving of the adventurous and romantic tales, I'm running errands, driving people around (or crazy depending on your perspective), and generally pretending I'm a grownup.
When I was fifteen, I knew I wanted to be a novelist–wanted to write for Harlequin actually. But the calling to tell stories came a lot earlier than that, I just didn't know what it meant.
I had a lot of growing up to do before I could manage it, though many would claim the growing up part didn't take–you know who you are–but I finally have my dream job.
Life rocks—so should the books you read!
Webpage: http://judyteel.com
Facebook: https://www.facebook.com/JudyTeelBooks?ref=hl
Twitter: http://www.twitter.com/judyteelbooks
Amazon Author Page: http://www.amazon.com/-/e/B008K8WHHI
…some people will do anything for revenge.

In a dystopian United States where paranormal races are out of the closet, a young PI struggles to stop a vengeful serial killer only to discover that the murderer holds the key to her secret magical heritage.

Book One in the YA13 paranormal/mystery series Dangerous Magic by Judy Teel. "Expect action, on-the-edge-of-your-seat suspense, and the perfect touch of romance."